GOT7's newest album PRESENT: YOU & ME was released on the 3rd of December 2018 and is a repackage album, combining all of the songs from the previous album with new songs and previously unreleased songs.
As such, the album has a wide variety of music and also showcases the musical tastes of each member through unit songs and solos. I will be reviewing all of the the songs on this album!
---
THE REPACKAGE ALBUM
Miracle is the title track of the repackage album. It's a wintry pop-ballad with a touching music video. The song talks about feeling less lonely now that the listener is here. Instrumentally, the song features soft piano and gradually building and diminishing string sections. This, accompanied by the sweet vocals and the soft, musical rap creates a beautifully atmospheric, emotional and honeyed track. 4.5/5.
Take Me To You is an upbeat pop-ballad with soft rap featuring the whole group. It's soothing, calming and understated. A pleasant track! 3.5/5.
Come On is the last of the songs on this repackage to feature all 7 members. It's a chill hip-hop song that makes me wish my hip-hop dance skills were better! 3/5.
1:31AM is a duet by JB and Youngjae. It's a gorgeous, slow ballad with a perfect balance of emotional rawness, vocal prowess and gentle instrumentation! 4.5/5.
Higher is a duet by Mark and Jinyoung. It's a good dance performance song, but does little for me outside of that context and it's very repetitive. 1/5.
I Love It is barely over 1 minute long and the shortest song on the album. It features Jackson, BamBam and Yugyeom in a chill hip-hop track. I quite like this genre, and whilst its not the best chill hip-hop song ever, it's listenable and calming. 2.5/5.
WOLO is a hip-hop song by Jackson, BamBam and Yugyeom. I'm really not a fan of the beat drop in this song or the play on "YOLO" so I'll have to give this song a pass, but their rapping is good as usual and mixes well with Yugyeom's vocals. 1/5.
King is duet by Jinyoung & BamBam. It's a rap/hip-hop song, and I must say I prefer it as a performance song than a song I would generally listen to. 2/5.
Think About It is a song from JB, Mark and Youngjae. The R&B/pop-ballad fusion that is this track suits and showcases these members really well and just makes my ears happy! Soft, slightly sensual and splendid! 4/5.
From Now is a Yugyeom solo and is also based on R&B/soul music. I especially like the slow section. An atmospheric piece to showcase Yugyeom's vocals. 4/5.
Hunger is a Jackson solo and features his typical rap/Hip-Hop style of music. It's an incredibly short song (less than 1 minute) and is designed as more of a performance song than anything else, so I'll give it a general sort of 2.5/5.
Phoenix is a rap/hip-hop duet by Jackson and Yugyeom, but I'm really not a fan of the forceful rap style in this song. Yugyeom's vocals are sweet, but I don't particularly like the instrumentation. Good for those who like a harsher, less melodic rap though! 2/5.
---
THE ORIGINAL ALBUM
Lullaby was the title track off of the original PRESENT: YOU album and has a deep house influence. The chorus is incredibly catchy and I find myself singing it at random times. I especially love the ending where the vocals are really brought to the front as the instrumental becomes simpler, it highlights the pure vocals excellently. While not an emotional masterpiece, this is wonderful music for a pick-me-up or a random dance party. 4.5/5.
Enough is one of the b-side tracks featuring GOT7 as a group and, like the rest of these group tracks, is based on the dance/EDM genre. It's a good dance song, but nothing particularly special. 2.5/5.
Save You is a dance/EDM song with 90s influences and I'm not a massive fan, especially of the pre-chorus. 1.5/5.
No One Else is again a dance/EDM song, but is quite different to the previous two. It starts off slightly slower and has a really interesting percussion which I'm a little bit in love with. It's a bit hypnotic, a lot of fun and great to dance to. 3.5/5.
I Am Me is the final of the group b-side tracks and is also a dance/EDM song. It has a more airy and open beginning than the other tracks, and generally has an almost euphoric sound, which fits nicely with the overall meaning of the song about accepting yourself. 3.5/5.
Sunrise is JB's solo song and has a R&B sound reminiscent of the vocalist's mixtapes. Featuring absolutely gorgeous falsetto, it's sexy, seductive and sensual with an otherworldly atmosphere. 5/5.
OMW is Mark's song, but features Jackson and Jackson helped to produce it along with Mark. The song is a sort of chill hip-hop and feels like a journey at a soft, steady pace. Mark is taking his time to move through the song and it suits his personality. That being said, there aren't any parts which stand out as particularly good. It's a good, relaxing song, but nothing special. 3/5.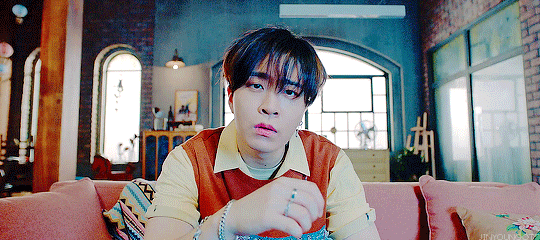 Made It is Jackson's solo and is his typical sort of rap/hip-hop that he does for his solo songs. For its genre, it's a good song and Jackson's rap is good, as always, but there is a high pitch sound in the background which hurts my head. All in all, not my style of music, but good for its genre. 2/5.
My Youth is Jinyoung's solo. It has a very soft rock sound and talks about missing youth. The song is poignant and sad, yet hopeful, and for some reason makes me think of The Breakfast Club when I listen to it. 4.5/5
Nobody Knows is Youngjae's solo. It's a sort of haunting pop-ballad and showcases the emotional intensity of his gorgeous, gorgeous voice. The song speaks of loneliness and dealing with suffering by oneself. It's devastating, arresting and powerful. 5/5.
Party is BamBam's solo and is, well, a party song. The beat drop is decent and makes a good tune to dance too, but I feel that the song does not showcase BamBam's talent, is quite disjointed and I'm not a fan of the autotune. Overall, BamBam has done better than this disjointed, half-there track. 1/5.
Fine is Yugyeom's solo; it's a slightly creepy R&B/Soul track which suits Yugyeom's voice perfectly. It's slow and steady, with a sensual movement throughout. 4/5.
---
Overall, I noticed a general trend: I love the R&B/soul based tracks and the ballad tracks, am generally okay with the dance/EDM tracks and then the rap/hip-hop tracks are fairly hit-or-miss. I found the title tracks of both the original album and the repackage to be excellent and I loved many of the members' solo songs. The group b-sides were superior on the repackaged album, but generally speaking the b-sides from the original album were better as many of the b-sides from the repackage were originally designed as performance pieces and don't work well for me outside of that context (with some notable exceptions of course). Overall, some of my favourite GOT7 songs to date have come out of these albums and I am thrilled to finally have a studio version of 1:31AM to watch… I've been waiting!
| | | |
| --- | --- | --- |
| CATEGORY | SCORE (ORIGINAL) (5) | SCORE (REPACKAGE) (5) |
| Title Track | 4 | 4.5 |
| Variety | 4 | 2 |
| Cohesiveness | 3.5 | 3 |
| My Music Taste | 3.5 | 3 |
| Overall | 4 | 3 |
So what did you think about these albums? Stay tuned for more reviews and a countdown of my favourite GOT7 songs later on in the week after a short break for some bookish goodness, and please show my Very Posty December lots of love! I also recommend checking back at the previous posts from this December… BOTH of them have featured GOT7! Happy listening, Keira x.